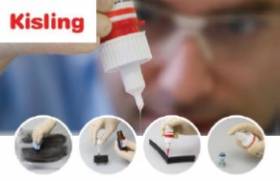 JIT Industrial Products Ltd. have recently been appointed distributor for Kisling Adhesives and their Ergo Health Friendly Adhesive range which includes: -
Threadlockers - for fastening, securing & sealing threaded connections. Withstands vibrations and shock loads as well as constant mechanical loads. Fills the thread completely & prevents corrosion
Hydraulics & pipe thread sealants - for leak-proof & pressure-resistant threaded pipe connections. The adhesive film is resistant against vibrations and to common industrially used liquids and gases. Available in various viscosities & strengths.
Flange Sealants - instant gaskets for surface and flange sealing. Fit flanges or casings of any shape. Ideal safety against vibration and corrosion. High resistance against industrial gases, oils & other liquids.
Retaining Compounds - retainer for high strength bonging of cylindrical components such as bearings, sleeves, bushings, gears, pulleys together with shafts and housings. Due to its gap bridging properties, the adhesive is also suitable for use with fitting tolerances. Good resistance against acids, alkalies and high temperatures.
Cyanoacrylate instant adhesives - ensure fast and durable bonding of metals, plastics, elastomers, wood, plastic, stone and ceramics. They provide high impact resistance, flexibility as well as resistance to water and air humidity and many organic solvents. Optimal curing at room temperature. Solvent free.
Ergo health friendly adhesives offer a sustainable alternative to Loctite, Dow Corning etc. They have generated strong interest with those looking to improve their environmental credentials where REACH & ROSCH compliance are critical.
For more information on the Ergo range, please contact us on 01698 748290 or This email address is being protected from spambots. You need JavaScript enabled to view it.