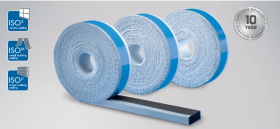 In addition to our existing stock holding of outdoor grade performance silicone and bonding polymers, we are working closely with the German manufacturer, ISO-Chemie to offer a wide range of expanding foams which are being specified as alternatives to conventional silicone and aerosol foams.
They offer better thermal properties in addition to peace of mind where expansion and contraction in building materials & structure has led to failings well short of the warranties & guarantees offered by the installer - in particular where height or access is a costly issue.
ISO BLOCO ONE is a special multi-functional all in one joint sealing tape with outstanding properties: -
A-value of 0.00m3/[h-m-(daPa)2/3] the pre-compressed tape is 100% air tight at the internal seal area, contributing in minimising heat loss by convection.
Also possess an optimal vapour diffusion gradient from the inside outwards (40:1) enhancing the external transmission of moisture, enabling the joints to dry out quicker.
Resistant to driven rain in excess of 1050Pa
Can be installed in adverse weather conditions.
Easy one step application for reliable seal - sealing a wide range of joint sizes with a minimum of tape dimensions.
certified Passive House component
10 Year Function Warranty - on the conditions of the manufacturer (available on request).
It's a new approach to installing windows and doors, but with the above benefits they have been well received by architects and are becoming specified more and more. (There are also FR products within the range).
For more information on the ISO-Chemie range, please contact us on 01698 748290 or This email address is being protected from spambots. You need JavaScript enabled to view it.