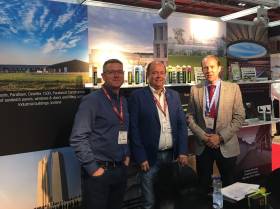 JIT & key partners DL Chemicals, are in attendance at the FIT Show in Birmingham's NEC. The exhibition which runs from 21st to 23rd May is the UK's only exhibition for the window, door and glazing industry.
Nigel, Ryan, Steve & Piet are available to discuss the full range of sealants including Parabond, Parsilico, Sanitair & FR which have proven to be popular additions to our product range.
As JIT's MD Nigel Fleming commented "Sustainability & environmental responsibility are continuing themes throughout many industries at the moment and certainly at this year's FIT Show we have seen a strong interest in water based products over the conventional solvent based sealants. The foil chubs are also gaining in popularity over the traditional plastic cartridges - many of our customers have already made the transition to the foil chubs and feedback on the additional benefits has been very encouraging."
If you can't make it to the exhibition this year and would like more information on the range, please feel free to contact the office on 01698 748290 or This email address is being protected from spambots. You need JavaScript enabled to view it.